Wow, did I write that?
Yes I did – no more BABY gear review, we are jumping into the world of Toddler stuff! How exciting yet a little depressing.
Technically Jude isn't really a Toddler yet, he isn't walking BUT I really don't think we can classify this on the go little man in the BABY column anymore!

So here is our first list of "stuff we love" in this age group.

Table Toppers – Disposable Placemats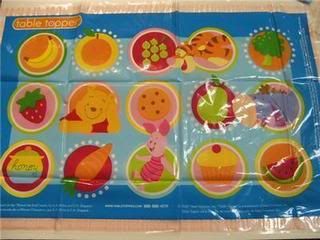 When I first saw these items in the pile of "random" things I got at my baby showers I wondered if we would ever really take the time to use them or even remember to use them while we were out to eat. Well let me tell ya, these things are fantastic!! Yes there are days when we don't plan on stopping for lunch or dinner so we don't have one in our bag BUT I would say that 95% of the time we do use these. Have you ever seen how dirty the tables are at the mall or even Chili's? GROSS!!
Jude loves picking up his own food now so to know that we are putting his crunchies, cheese and other snacks on a clean surface is wonderful! And the designs are fun too! We personally have one set with dinos and then another set of Pooh Bear. We love these and I know we will be using them for months to come! You can find these at most stores. Even the grocery.
This is another item that I have added to my list of baby shower gifts to give!
Gerber Crunchies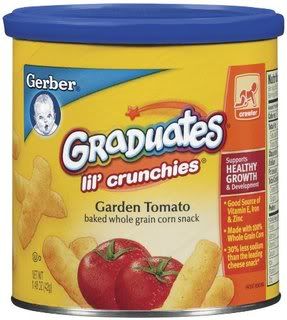 Speaking of food and crunchies – let's move right along to THE Crunchies!
When we first started introducing Jude to the world of feeding himself and finger foods we started with the little Gerber Puffers and Cheerio's. He LOVED the Cheerios but HATED the Puffers. We were so surprised. So one day while shopping for baby food, I saw the Crunchies and decided it was worth the $1.92 to see if he liked these.
Well about 5 cans later, we are still buying them. His favorite is the kind that is pictured – Garden Veggie. Yummo! Basically my kid is lovin the "healthier" version of a Cheeto! HA!! LOL Whatever works.
Just a side note – we don't let him eat a ton of these considering it is just air and corn. His very favorite finger food right now is American Cheese. He has 1 slice a day and loves it! Gobbles that thing up so fast!
Crib Teether – AKA: Crib Saver!!!

So Jude has learned to stand in his crib which puts those 2 little teethers at the level of the crib rail and boy he can get to grinding!
When we saw this we decided it was time to protect that furniture that will be following Jude around until he is on his own! Love the convertible crib!! ;0)
We bought the one pictured above – I found this at Babies R Us, I was a little pricey ($29.99) but in my mind, so worth it! We attached some "chew toys" to this and Jude loves messing with them when he first wakes up from a nap or when he is just chillin in his crib. I would totally recommend this to anyone who wants to keep their convertible furniture in good shape for as long as possible!
B. Toys


You MUST visit this
website
and look at all of the great toys they have. Unfortunately you cannot order these toys online BUT thankfully Target Stores have a great selection of these. Lucky Jude has a TON of these toys but the Drum is most definitely the best one so far! Mostly my review is that B. Toys are a must!
The colors that B. Toys use in their toys aren't your typical colors which is what is so interesting to me AND they are just adorable toys.
Here is what we have so far!

Drum
Blocks
Bugs (adorable!!)
Wheee-s (cars)
Next on our list:
Fish and Splish
Zany Zoo
Keys
Phone
Well there you have it – our 1st Toddler Gear Review. Amazing!


What is on your list?