Thankful Thursday - Summer Outings
I am thankful for summer time and family time outside!
Recently we purchased a bike trailer for bike rides – yes it was expensive but with 2 rides under our belts I can already tell you that the money was well spent. Jude is still getting used to the helmet and the idea that he can look around while we are cruising the town and Jeremy is still getting used to the extra weight of Jude and the trailer! Lol :O) Just think of it as extra exercise.
My hope is that we can continue these outings, as long as the weather stays not too hot and no rain, at least 4 times a week. I really want to show Jude by example how it is better to be outside than sitting inside.
Not only do we have the trailer for all of us to go on bike rides but we also have Jude's little bike too. This was a great birthday present from my parents for Jude. He loves it and it is so fun to push him around on too. Great for afternoon walks to the park.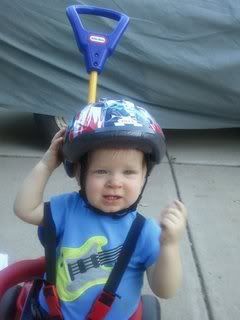 Cute little boy on his bike. :O)
What are you thankful for today?