Guest Post by the Lovely Lauren Rae! Enjoy Y'all, she will give you great ideas for next spring/summer gardening!
First, let me start by saying hello to all of Censie's followers. HELLOOOOOooooooo.
My name is Lauren and you can find me over at
Ever Changing
. I am a mom to two fur babies named Daisy and Baxter and husband to Jared. We are living our crazy life in Arkansas and trying to sneak some fun in every chance we get.
When my BFF Censie needed help filling up the pages of her blog while she is jet setting around the world I was more than delighted to jump in.
Let's talking about growing our own veggies, shall we? Growing your garden.
I married into a family that had very different views about food than my family. My veggies came in salads or on a burger or as a side dish. Rarely were they the main course and I never knew where they came from or who grew them. I now have more of a grip on those kinds of questions and it inspired us to start our own summer garden.
A year ago we decided to start our own compost bin and kept it going from fall through winter and on into spring. You do not have to do this but our ground was hard and a bit unforgiving at first so we wanted to give it all the help it could get.
Around the first week in April (which turned out to be a little early thanks to monsoon season here…Lord always something) my husband tilled up a plot in our back yard.
If I could give you two HUGE tips one would be to make sure you get all the living grass out of this area and the second would be to know your growing zone.
Next we used a rake and shovel to make rows for our garden. We could have made about five very long ones we chose to make many (about 14) shorter ones to break up the garden. We planted a combination of plants and seeds. If you are anxious I would recommend plants over seeds. They (in my opinion) rooted faster, produced more over the long run, and help up against all the rain we had in April and May (where is the rain now?). Know your zone.
Listen, I would love to have planted a lot of fruit bearing trees this year but by the time I made that decision it was too late and had I planted them they would have been killed off by our 114 degree days. Your growing zone helps you map out the best plants for your area. Where a drought resistant plant may not grow as well in Louisiana it would flourish in New Mexico. When you buy plants and seeds they typically have a tag that shows a smaller version of this map that will show your area of the US and if that plant will grow where you are.
Follow the
link
to find your area and your zone.
Next choose plants you will eat. Look tomatoes produce a lot fast and at once.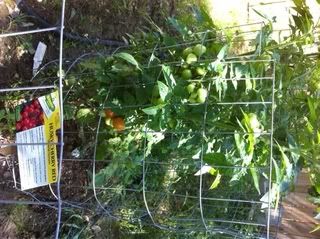 If you want something to look at in a garden fill it with flowers. If you want to eat pick things you like or would like to give away. We made and canned salsa with some of our tomatoes. Next up will be making pickles and freezing green beans hopefully.
Water!!
Your garden lives and dies by water so make sure to check the ground often. Pay attention to the forecast. Will noon be the hottest part of your day? If the temperature is in the 80s, 90s, or 100s, please know that when you water you are cooking everything. We have had to water at midnight until 3:00 am or so just to make sure we watered during the coolest part of the day. Soaker hoses are great if you just want to walk out and flip a switch but we used a sprinkler to cover the largest amount of garden possible so we did not have to buy three soaker hoses. Do what works for you.
Bugs and birds are bound to find their way into your garden. To keep away birds take two aluminum pie tins fill with about a cub of rice or beans, seal shut and poke a hole at the top. Run string through the hole and tie to the fence of your garden or to stakes or posts you are using to help plants that need it. As for bugs every region is different. We live in a very good place for bugs to thrive and used
Diatomaceous earth
. It is made out of rock and crumbled up in to a fine powder. It kills bugs but you have to reply often especially if it is washed away. You can get it at Lowes and I believe Home Depot. To us it was worth the cost not to use chemicals.
Lastly, maintain your garden. Pull weeds, don't let veggies and fruit fall off and rot and attract other bugs or animals, water, and feed your garden. There are great plant foods out there that can help get a wimpy garden growing. You need to decide what is right for you and your family. Get the kids involved! It only takes a little bit of research and you can get started sooner than you think.
We spent less than $50 getting it all started and growing and we have saved well over that. I have not bought tomatoes, onions, or lettuce all summer. It was nice to go outside and pick things up for dinner without having to hop in the car to get something.
I know there is certainly much more I could say about this. But, I am sure that is plenty for now.
I enjoyed visiting with you and thanks for stopping by San Diego (Anchorman? Anyone?).
Wait no. Thanks for stopping by Censie's fabulous followers!
If you enjoyed Lauren Rae's tips make sure you follow her blog and hit her up on Twitter. She will keep you entertained and full of information! Thanks for guesting Lauren!! xoxox