When I was contacted by Renee McLaughlin about reviewing a fat burning coffee I immediately responded to her with a happy "YES!" I am a full time working mother and I love my coffee and occasional hot tea as well, so I was pleased to get this opportunity to work with Renee.
I was sent 3 different products to review from Boresha. All of these products have been FDA and FTC approved after many rigorous scientific studies.
The first was a thermogenic coffee that is called BSkinny Coffee – cleaver name right?!? ;) BSkinny Coffee helps with the following: fat burning, balanced energy, patented hunger control, and combats stress-related eating. The BSkinny Coffee was easy to make, just like any other coffee you would make – it has a great coffee aroma and tasted great.
For those of you that know me in real life you know that I love my flavored Starbucks lattes! Yum!! So tasty and SO FULL OF FATTENING SUGARS!! I have a hard time giving up my Starbucks runs but using these products has really curbed my daily sugar intake. I am not a fan of just BLACK coffee so I was really excited to try the Fat Burning Chocolate Raspberry BSkinny Latte. Now this was a splurge for me! But like Renee explained - not a real splurge on the hips! "Instead of adding fat, this chocolate flavored latte BURNS FAT, and provides sustained energy for hours!" I would have to say that this product was my favorite. All you have to do is add hot water and you have your healthier latte treat! Oh so good!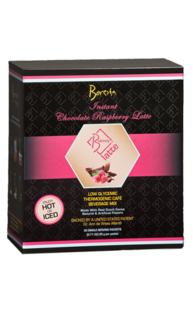 Now for the tea. Like I said I do like my occasional tea so I was happy to receive this as well. Nuvo Gene Tea is a tropical flavored tea, not too strong but just enough flavors and taste. This tea is a powerful, all natural appetite suppressant too. I started drinking a glass of this during the afternoons at work, it helped me get that sweet taste but not reach for a cookie or candy bar at work. I do usually like hot tea but this is meant to be a cold drink so it was perfect for an afternoon snack.
I have to say I was a little skeptical of these products but when I actually took the time to follow the plan – drinking the drinks, adding more water throughout the day and just eating healthier I was pleasantly surprised. The days that I drank the teas and coffees I felt better. It really shows how much sugar can play a role in your day. I would estimate that lost a total of 5 pounds while using the program and products. If I could just stay away from those sugar filled lattes I would be golden!
Maybe this isn't a product that is going to make you lose 50 pounds BUT it is a product that will help you be healthier when you drink your morning coffee. Less sugar = less weight! Renee is an uplifting and fun health coach, she has been great to work with!
Links that you should visit:
Renee has graciously given me 2 prize packs to give to my readers. Below is a Rafflecopter entry form that is easy and fast so please enter to win either a BSkinny Coffee Prize Pack or a Nuvo Gene Tea Prize Pack! You can do your own 10 day trial and see what you lose!

Click the "Read More" link to find the Rafflecopter Widget.







*Disclaimer: I received this product for review purposes. No other compensation was given. All my opinions are my own and not swayed by any outside influences.