This blog hop is all about Weight Watchers. Let's help each other on this journey by linking up recipes, successes, tips, photos and WW stories! Rules: Well the rules are easy. Just link! Link your blog posts that are all about Weight Watchers. Easy as pie! There are other ways to follow blogs such as Google+, Networked Blogs, facebook and various other options. I want everyone to link up! Grab the "Wednesday on the WW" button and put it in your blog post! I cannot wait to read all of your stories!!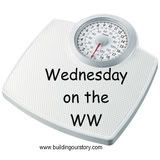 Week 11 on Weight Watchers for me.
Well it wasn't great, however I am not too surprised. I went to my weigh in knowing I would gain something. And I did - bummer!
I gained 1.6 pounds. :O( Not good but when I look at the big number I still see that I have lost over 11 pounds.
I have sent a goal for myself this week. I want to work out at least 3 times!! Also I want to TRACK EVERYTHING! Two big goals but I think they will both help me get to that 5%.
My motivation this week is coming from my meeting - I saw 2 ladies that started on the same day as me hit their 10% last night!! Now come on - I should be able to hit my 5% right?!!?
Submit your link below!