This blog hop is all about Weight Watchers.
Let's help each other on this journey by linking up recipes, successes, tips, photos and WW stories! Rules: Well the rules are easy. Just link! Link your blog posts that are all about Weight Watchers. Easy as pie! There are other ways to follow blogs such as Google+, Networked Blogs, facebook and various other options. I want everyone to link up! Grab the "Wednesday on the WW" button and put it in your blog post! I cannot wait to read all of your stories!!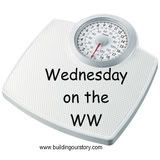 Well it wasn't a great week for me but I cannot complain. I did not gain weight but I didn't lose either! Exactly the same. Which keeps me at 11.2 pounds lost.
I am not real happy with my success though. I need to be more focused and on top of the plan.
Last week I said I was going to work out but I didn't, I also said I would track but I didn't!
I am changing that.
Last night I came home from WW and I changed into my workout gear and rode the bike for 20 minutes! Success! I hope to do that every night that Jeremy goes to the gym too.
Jeremy and I have a goal that we each want to reach before we go on vacation - 9 pounds lost by March 7th! I want to do it because I know he will reach it!
In 12 weeks I have lost 11.2 pounds.
What have you lost?
What tips, recipes, workouts, and stories do you have for us this week?
Link up and share!!