This blog hop is all about Weight Watchers.
Let's help each other on this journey by linking up recipes, successes, tips, photos and WW stories! Rules: Well the rules are easy. Just link! Link your blog posts that are all about Weight Watchers. Easy as pie! There are other ways to follow blogs such as Google+, Networked Blogs, facebook and various other options. I want everyone to link up! Grab the "Wednesday on the WW" button and put it in your blog post! I cannot wait to read all of your stories!!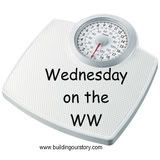 Week 13 and I did it!
I hit my 5% goal! FINALLY!!
I lost 1.8 pounds and I am thrilled. Hitting this goal was huge and now I am focused on getting to the next one - 10% loss!
So here is the run down, I have lost 13 pounds in 13 weeks and lost over 5% of my body weight!
This week I worked out 3 times at home. I also tracked nearly everyday. I am hoping for at least a 2 pound drop next weigh in! Time to get serious.
I love to hear your stories so please link up!