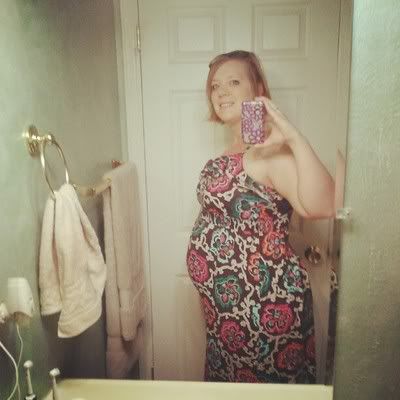 In picture 24 weeks – V-DAY!!
Honestly I haven't been on the scale.

I am sure I am up about 5 pounds now.
Heartburn is killing me.

I take my meds religiously but it still happens.

Ouch!

Other than that I am just HOT – it has been so freaking hot here in Colorado (not normal) so it makes it a little uncomfortable.
Yup – EVERYTHING!

Well except my 15 dollar 2x swimsuit that sort of works for my belly but WAY cheaper than those maternity suits!

Lol
Just fine but I miss sleeping on my tummy.
Yes!

Finally more movement.

Nothing from the outside yet, Jeremy really wants to feel her.

I found out that I have an anterior placenta so movement might be less than I remember with Jude.

Bummer.
Being hungry for something.

I can never think of anything to eat for dinner.

I don't know why.
Hitting a big milestone.

24 weeks is considered the viability date in pregnancy.

Although it would be a hard struggle if baby girl came this early her chances are very high of survival on the outside.

Just nice to know!

YAY for 24 weeks!
What I'm looking forward to:
July 24th – regular OB appointment.

Not having to go every week anymore!

YAY!!
GIRL!!!!
Also - in case you wanted to compare, here is my 24 week picture from when I was pregnant with Jude!